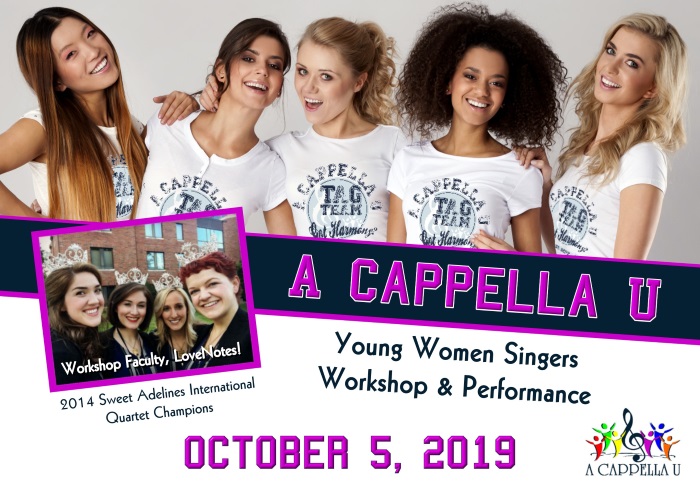 Don't miss out on this fun workshop! Learn what Deke Sharon from Pitch Perfect calls the blackbelt of a cappella!!
Teachers: You are welcome to join your students for this fun learning experience! You will be able to see first-hand how a cappella 4-part harmony works to ring chords. Plus lunch is included! Please register below and in the drop down menu under payment, select Teacher. This will give us an accurate food count. Thank you. A Cappella U is an all day Saturday workshop for young women between the ages of 13* and 25. All vocal ranges are welcome and experience is not necessary.
Online Registration is open now!
Bring a friend and share this fun day singing a cappella harmony!

Cost is $30 for a full day of great singing, lunch and T-shirt. Scholarships available upon request (AcappellaU@singharmony.org)
Students will learn music in 4-part harmony from our 2014 Sweet Adelines International Champion Quartet, LoveNotes, and fun choreography from a professional dance instructor.
At the end of the day, students will be able to participate in a show for their friends and family! The show will start at 4:30 p.m.

October 5, 2019
8:30 a.m. to 5:00 p.m.
Food and beverages as well as a souvenir t-shirt for the show are included!
Inside Comunidad Cristiana Del Silicon Valley
1748 Junction Ave, San Jose
Off Hwy 880 & Brokaw Road, 1/2 block behind Fry's.
Take the driveway next to 88Bistro all the way to the back of the complex.
Follow the signs!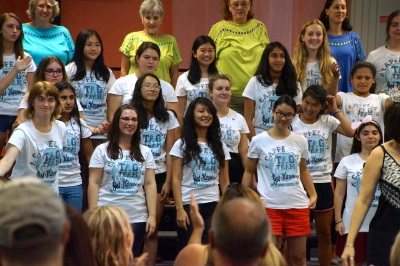 *Participants must be 13 yrs old by October 5, 2019. Exceptions will be considered by the music team. Please email AcappellaU@singharmony.org for details. Participants under 13 years old must have a chaperone present for the duration of the event.
For more information, phone 408-973-1555 or email: AcappellaU@singharmony.org
Financial assistance available - just ask us!
Deke Sharon calls our style of singing the blackbelt of a cappella! Hear what he says about attending a cappella workshops:
See LoveNotes, your workshop leaders, in action here!:

Check out these other quartets and choruses:

Young Women In Harmony:

Download the Release Form here:

This event is presented by Bay Area Showcase Chorus and Mission Valley Chorus with a generous grant from Sweet Adelines International!