Barbershop music is sung a cappella (unaccompanied) with four voice parts. Tenor, the highest part, is a harmony part sung above the melody. Lead, one of the 2 middle parts, is generally the melody, although occasionally the melody line will transfer temporarily to one of the other parts. Baritone, also a middle part, is harmony usually below the melody. Bass, the lowest part, is the foundation harmony sung below the melody. This wide range of voice parts offers women with high or low voices a comfortable part to sing.

In the barbershop style, every note is harmonized, with occasional bits of solos or duets now and then. There are no discordant notes or passing tones, but frequent use of embellishments such as bell chords, echoes, and slides. Lyrics emphasize good times, love, family, friendship, the joy of music, and sometimes a bit of nostalgia. Ballads are sung "ad lib" so they come across as sung stories, and peppy uptunes usually have some choreography to go with them.

Barbershop singing minimizes the use of vibrato, to achieve locked chords that generate overtones. Diction is simple American English. It's "feel good" music with elements of musical theater and pop style. Both quartets and choruses sing in the barbershop style.

Artistic singing in the barbershop style exhibits a fullness or expansion of sound, precise intonation, a high degree of vocal skill and a high level of unity and consistency within the ensemble. Ideally, these elements are natural, unmanufactured and free from apparent effort.

Bay Area Showcase Chorus sings songs in the traditional barbershop style, as well as more contemporary audience favorites. Our current repertoire includes old favorites as well as numbers made famous by Pink, Liza Minnelli, American Authors, Adele, and even the "Cups" song from Pitch Perfect!
Pitch Pipe Magazine
If you want to stay informed of happenings in the female barbershop music scene, subscribe to Pitch Pipe, which is published by Sweet Adelines International each quarter. It's full of news, reviews, and previews of coming events and competitions.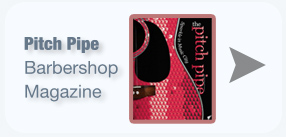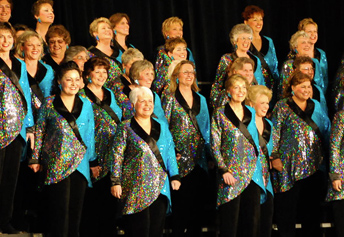 History of Sweet Adelines International
Barbershop began as a style of harmony derived from African-American extemporaneous harmonizing and gained popularity on the Vaudeville stage. After World War II, barbershop singing was growing increasingly popular for men, who had formed the Society for the Preservation and Encouragement of Barber Shop Quartet Singing in America (SPEBSQSA). In 1945, a small group of women wanted to participate in the chord-ringing, fun-filled harmony that their husbands were singing, so these women organized "Sweet Adelines in America." From its humble beginnings in Tulsa, Oklahoma, Sweet Adelines International, as it is now called, has grown to a membership of more than 500 choruses over five continents.

For more information about Sweet Adelines International, visit the website.