Bay Area Showcase Chorus is proud to have the following quartets associated with our chorus. We endorse all of them as excellent singers and entertainers, suitable for any occasion!
---
2 Mile Radius
2 Mile Radius

We have a blast singing together and performing and want our audiences to have fun too!
We love to sing a variety of songs -- some contemporary and some that have been around awhile, but with our own twist to them. We have a fairly extensive repertoire that can be tailored to suit almost any occasion, lots of FUN songs and some really beautiful ballads.
A sample of our songs: Soul Sister, A Man Who Can Cook, Randy Newman's Short People, Java Jive, The Lion Sleeps Tonight, Mr. Sandman, Trickle Trickle.
General public contact:
Kevran Day

Area of operation:
San Jose, CA
State:
CA
---
Songstruck


Kathy Mussett (Pride of Portland), Margo Biron (Bay Area Showcase), Barbara Zinicola (Bay Area Showcase), and Laurie Yoh (Bay Area Showcase) joined forces to become Songstruck Quartet in August 2016.

General public contact:
Barbara Zinicola

Area of operation:
San Jose, CA
State:
CA

---
Verve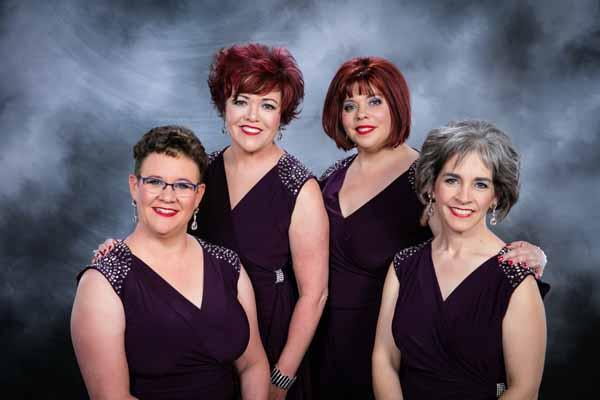 Verve was formed in May 2014 and works diligently exploring the art of a cappella singing with an emphasis on the barbershop style!
Tenor Averi Brickson (BASC) is a lifelong barber-shopper, successful business owner and Mom to three energetic and adorable children!
Lead Julie Harrelson (PEC) is a passionate and experienced Special Events and Client Relations professional and Mom to a Senior at Baylor University in Waco, Texas and is racking up lots of miles with Southwest Airlines!
Baritone Laura Bode (BASC) is a successful software sales engineer, engaging in extensive travel, and when not singing or working, she indulges her love of nature photography.
Bass Jen Higgins (CAL) is a wine club manager and Mom to an extremely active pre-teen son and precocious toddler!
Verve is devoted to family, community, music and each other and looks forward to learning and growing in the a cappella art form!


General public contact:
Laura Bode

925-858-5814
Area of operation:
San Jose, CA
State:
CA
---