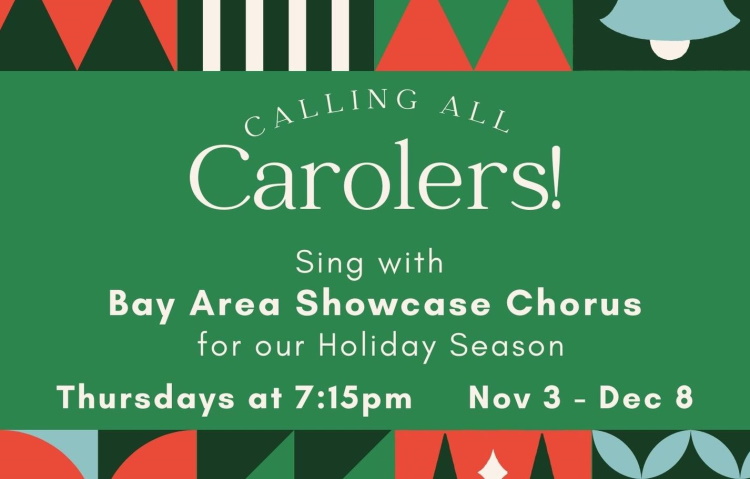 Calling all Carolers!
5 Thursdays, Starting November 3 at 7:15pm
Join Bay Area Showcase Chorus in Harmony for the Holidays! Sing and ring in the season with us. Over five weeks, guests will learn a couple of holiday songs and are welcome to perform with us at our winter show on Saturday, December 10. We invite women and girls 12 and up of all backgrounds and singing experience to make music in a friendly and inclusive community.
REGISTER HERE or walk-ins welcome! This is a FREE event!
COVID-19 requirements include proof of vaccination + 1 booster shown at the door
1989 E. Calaveras Blvd
Milpitas, CA 95035
Holiday Rehearsal Dates
Thursday, November 3 - 7:15 p.m.
Thursday, November 10 - 7:15 p.m.
Thursday, November 17 - 7:15 p.m.
No Rehearsal November 24 - Thanksgiving
Thursday, December 1 - 7:15 p.m.
Thursday, December 8 - 7:15 p.m.
Holiday Greetings
Bay Area Showcase Chorus Holiday Show
Saturday, December 10 at 3 p.m.
Show Ticket Link Coming Soon!
About BASC: Bay Area Showcase Chorus is a vibrant, award winning barbershop chorus and chapter of Sweet Adelines International. We educate and empower women to excel in singing 4-part harmony in the barbershop style.